The integrated lighting management solution of outdoor
  In recent years, with the development of the national economy and the deepening of reform and opening up, environmental protection, science and Technology Park Park, logistics park, emerging plant, city complex, University Park, stadium Park of different types has achieved great development, intelligent management system has become the organic part of the park indispensable. Outdoor integrated intelligent lighting, as a new kind of intelligent control technology, which mainly solves the energy saving lighting application, control and management needs, from the design of general park, designed in accordance with the planning and function, at present are many angles from the office, workshop, leisure, commercial facilities, implementation and Garden Road to planning.
Outdoor lighting has penetrated into our daily life, to analyze from the energy-saving emission reduction, automation control, intelligent management and ensure the safety of travel angle, outdoor lighting management in the park has more important significance.
【Current problems】
1 Many lighting equipments, can't unified manage: street lamp, tunnel lamp, night view contains all kinds of lighting and outdoor lighting applications, even if the control system is the information isolated island, it is difficult to carry out the unified management and control.
2 Can't modify the light switch remote time: not according to the actual situation (abrupt change of weather, events, festivals) timely school time and modify time switch lights, light adjustable LED lamp also can not be unable to achieve two energy-saving lamps.
3 Without outdoor lighting condition monitoring: fault basis comes mainly from the inspectors report, lack of initiative, timeliness and reliability, real-time, accurate street running condition can not, comprehensive monitoring of the city.
4 ordinary artificial inspection: management departments lack the ability to unified scheduling, adjustment can only be carried out for each power distribution cabinet as a unit, not only time-consuming and laborious, but also increases the possibility of misoperation.
5 equipment easily lost, unable to locate the fault: cannot be accurately found stealing cable, lamp stolen and breaker, once the above situation will bring huge economic loss, simultaneously affect the park staff's normal life and travel safety.
  In addition, because of the outdoor lighting relates to the field of widely different lighting scheme, control, management and application also has each different, the scheme from the application scene of park of universal, comprehensive Zhichuang outdoor lighting management application solutions in modern parks were briefly described.
Aimed at several major problems of street lamp management exists, Fcreate proposed comprehensive outdoor lighting management solution with following eight functional properties :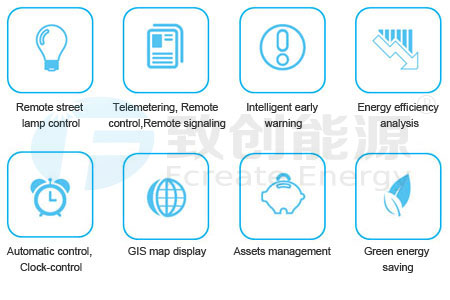 The outdoor integrated lighting management solution provides users with a unification management platform. For the situation that large-scale outdoor area has many lighting types, using centralized control to manage street lamps, landscape lamps, all kinds of lighting equipments, via different circuits and strategies. Create a favorable night image, and inject advanced and environmental lighting management technology at the same time, to make outdoor lighting intelligent.
1.Real-time data:voltage, current, power factor,active, reactive, etc.
2.GIS map:Administrative region, lighting control terminal, single lamp node,pipe network branch etc..
3.Remote control:Lighting switch control,The running data acquisition,Alarm equipment defence etc..
4.Fault alarm:Fault alarm information: visual display, push mode setting
5.Remote strategy control:Switch strategy preset lighting equipment, can adjust light in real time
6.Ledger management:The definition, management and maintenance of the administrative area, the equipment information
1.energy conservation and emission reduction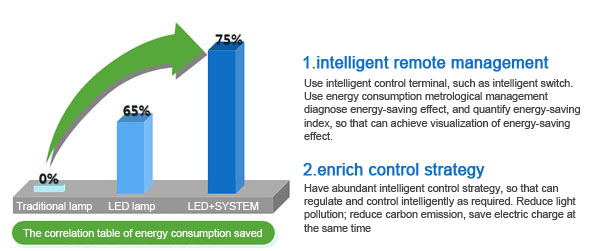 2.promote management ability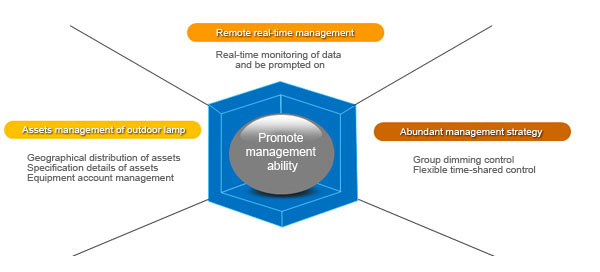 3.Safety Protection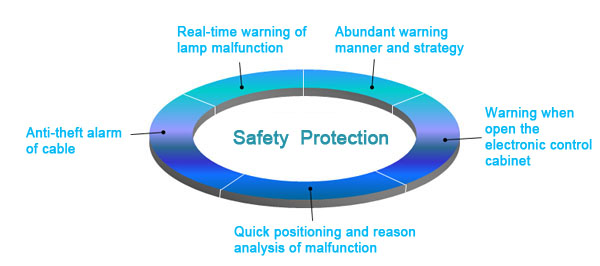 4.Simple installation, convenient maintenance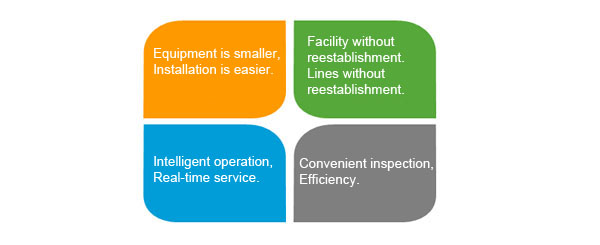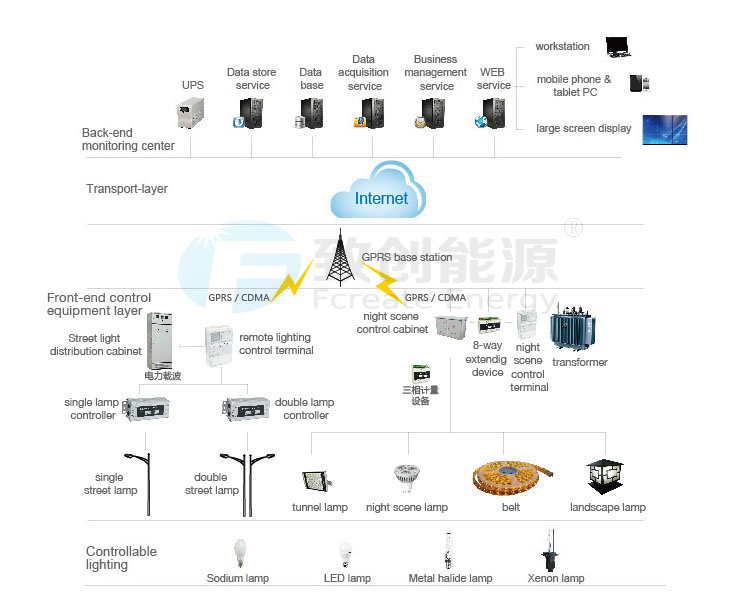 The integrated lighting management solution of outdoor including outdoor integrated intelligent lighting management system、lighting control terminal、the anti-theft series(anti-theft front-end、GSM anti-theft terminal、Sound-light alarm node)、lighting control terminal-single lamp controller、app。
【Customized strategy】
  User can personalize single lamp, branch, and power distribution box via the system; combine with outdoor lighting requirements to configure the on-off of lamps and lighting branch and dimming strategy; support manual control at the special time and when the public events happened.
【Operation state monitoring】
  Provide comprehensive operation data monitoring, judge all kinds of malfunctions of supply line automatically, take intelligent analysis for collected data, and realize fault diagnosis of lighting supply lines, at the same time, push failure warning to administrative department automatically which aims at operation data exception of current, voltage, power, power factor, etc., improve convenience and response speed of outdoor lamp's maintenance service.
【Intelligent early warning】
  During daily run time, provide user with detailed operation parameters. User can look over the electric quantity, voltage, current, power factor, effective value, active energy, reactive energy, etc... Based on the user defined parameter threshold value, the system can realize automatic early warning; also can combine with alarm bell to obtain evidence and awe in face of illegal open box, stealing cable, and so on.
【Data analysis】
  As to analyzing the data, the system provides user with energy consumption and fault analysis. Administrative department will analyze energy consumption that aim at single/double lamp, circuit, and supply transformer, to clear lighting energy consumption and other operation parameters, and relate to time and others to provide lighting energy saving with data support. The system also can do statistic analysis about the alarm types, area, equipments that aim at system malfunctions and warning records, to provide administrative department with data support, which can be used in equipment procurement, material purchase, maintenance repair, etc.