The intelligent lighting management solution of street lamp
  Street lamp lighting is an essential communal facility of urban daily life. At present, the percentage of our country street lamp power consumption in total power consumption is 15%. In face of short power supply, traditional LED energy saving can't satisfy large-scale power-saving demands, and manual control and patrolling street lamps need a large number of manpower and material resources.
【Current problem】
1. Manual operation, light-operated, clock-controlled
2. Can't remote modify the time of turn on or off the lamp
3. Do not have state monitoring of street lamp
4. Human inspection
5. Device is easy to lost, malfunction can't be located
Aimed at several major problems of street lamp management, Fcreate create the following solution of eight functional properties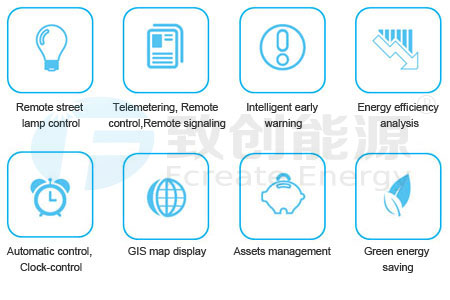 The intelligent lighting management solution of street lamp,achieve the implementation of unified management of public lighting effects lighting street lamps by street lighting management system and carrier control module,achieve remote monitoring, intelligent control, energy saving "three-in-one".
1.Real-time data:voltage, current, power factor,active, reactive, etc.
2.GIS map:Administrative region, lighting control terminal, single lamp node,pipe network branch etc..
3.Remote control:Lighting switch control,The running data acquisition,Alarm equipment defence etc..
4.Fault alarm:Fault alarm information: visual display, push mode setting
5.Remote strategy control:Switch strategy preset lighting equipment, can adjust light in real time
6.Ledger management:The definition, management and maintenance of the administrative area, the equipment information
1.energy conservation and emission reduction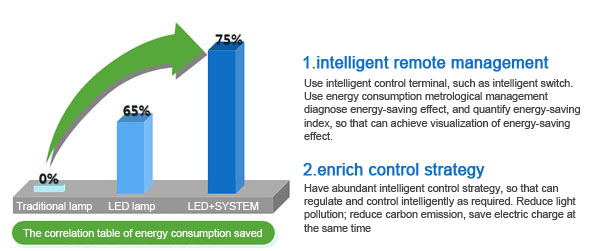 2.promote management ability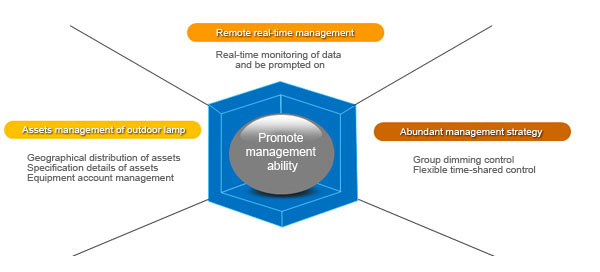 3.Safety Protection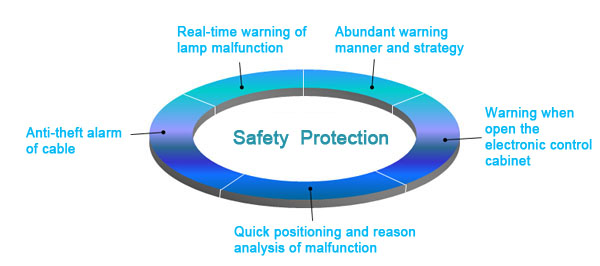 4.Simple installation, convenient maintenance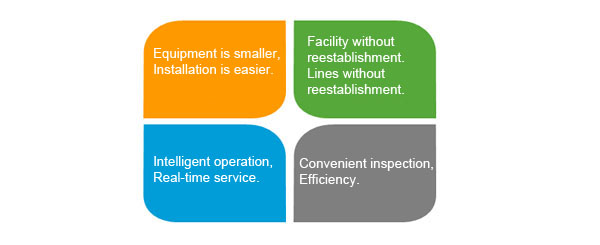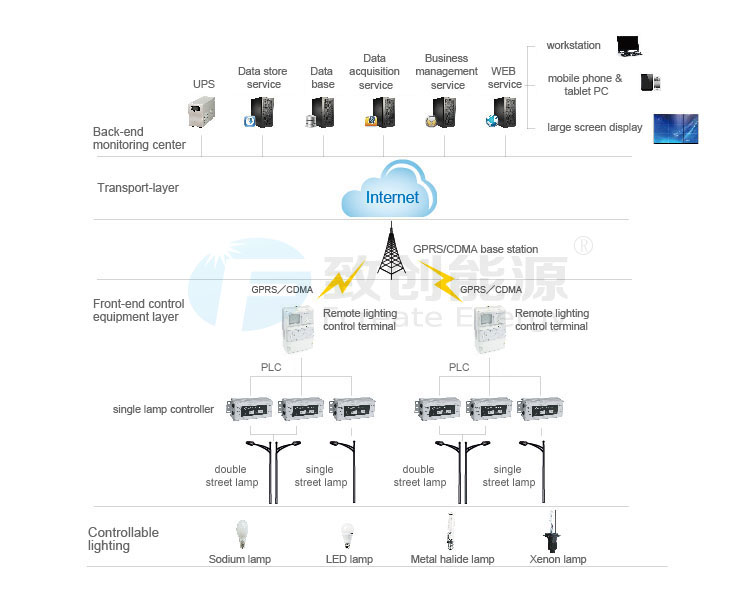 The intelligent lighting management solution of street lamp lighting management app
Lighting control terminal lighting control terminal-single lamp controller
Anti-theft front-end GSM anti-theft terminal sound-light alarm node
1.Real-time data monitoring of street lamp: voltage, current, power factor, active, reactive, etc.

2.Remote strategy control: time, longitude and latitude, weather, festival and holiday, user-defined

3.Operating data analysis: voltage and current analysis of branch, device and circuit

4.Abnormity smarter statistics: lamps malfunction, terminal malfunction, cable malfunction, outage, open circuit, short circuit

5.Anti-theft alarm: abnormal state of open box, cable and device

6.Street lamp mobile inspection: support telephone and tablet computer which is used iOS or android system.

7.Street lamp assets management: supplier/maintainer/contractor information, equipment use state

8.Data visualization: 2D report, 3D map

9.Terminal operation state monitoring: on line, off line, malfunction

10.Double insurance of control: automatic control, clock control